Traffic issues should be overcome for the mariner
Posted on 15 September 2016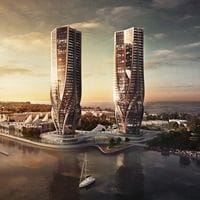 Sunland's plans for Mariner's Cove will provide a vital new tourism asset that is crucial for the Gold Coast's continued development, says the Gold Coast Central Chamber of Commerce (GCCCC).

Provided the City of Gold Coast mitigates the increased traffic to The Spit, GCCCC President Peter Yared says The Mariner should be approved when it is again debated.

"This is not just another building, it is a unique offering that will really add to the Gold Coast and will become a tourist attraction in its own right," says Mr Yared.

"It has long been acknowledged that this city lacks world-class cultural assets and these twin towers, designed by the late, great Zaha Hadid, and their associated museum and aquarium will be a high-class tourism attraction in their own right.

""The Sunland Group is a proven developer it has already created buildings that have put the Gold Coast on the map internationally, such as Q1 and Palazzo Versace and it could do the same with The Mariner.

"The Mariner will create jobs and continue the building boom that the Gold Coast is enjoying in the lead-up to the Commonwealth Games."

Mr Yared says the mooted upgrade of the Southport Bridge would provide a solution to the traffic issue.

"It has been suggested that if there is a third lane north over the Southport bridge that it would reduce traffic wait from 7 minutes to two minutes at peak times.

"However, the bridge is not part of the Sunland proposal it has not been suggested they pay it and it is not included in future planning from the Council.

"For a project of this stature to be rejected on the basis that the Gold Coast can't create adequate road infrastructure would be a crying shame."

Mr Yared said the City of Gold Coast needs to assess a broad range of traffic bottlenecks across the city and to develop a master plan to address them.

"We need to think beyond the Commonwealth Games and beyond the next election cycle if the Gold Coast is to prosper as a world-class city."