Notification of indicative construction works - Queensland Avenue to Victoria Avenue - Broadbeach
Posted on 13 July 2016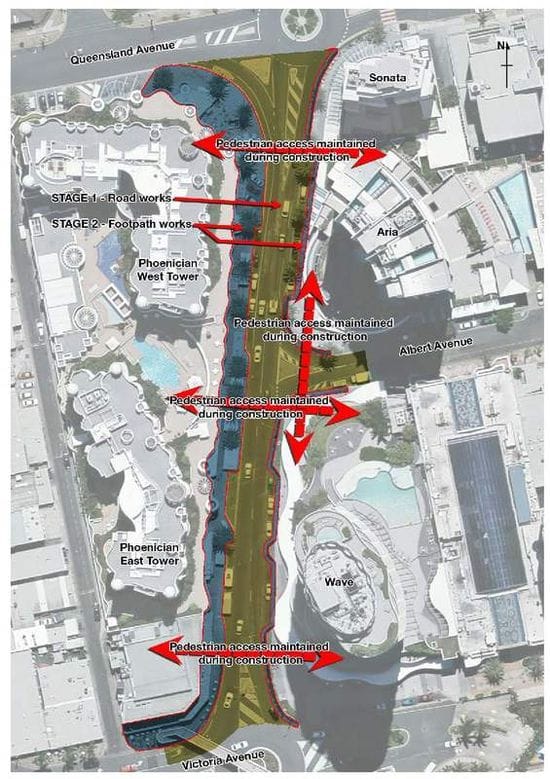 Surf Parade Place Making Project Update 5
Please be advised of the indicative schedule for the construction of Surf Parade:

Stage 1 Road works 1 August to December* 2016.
It is anticipated that works will be contained to the roadway and 1 metre behind the existing kerb allowing all tenancies to operate as usual with full pedestrian access. A full road closure will allow full access to all underground infrastructure to undertake necessary works and upgrades.

Pedestrian connections across the road will be maintained where possible.

Re-open for Christmas / holiday trade December* 2016 to last week of January 2017

All construction equipment removed, precinct tidied up and road reopened to pedestrians and vehicles.

Stage 2 Footpath Works Last week of January 2017 to May 2017

Works to be undertaken back of kerb to shop fronts, including new footpaths, outdoor dining structures, palm planters and decorative lighting.
With a full road closure, it is anticipated that works will be undertaken as shown on the attachment in sub-stages to maximise efficiency and minimise disturbance.
Access to businesses will be maintained at all times during these works.
Timing and location of staged works are indicative and subject to change to meet the construction requirements of the City/weather conditions.
Way finding signage will be located at specific locations providing directions to pedestrians. All businesses will be able to remain open for trade and will be accessible during the construction works.
The City and Broadbeach Alliance will be running a 'Business as usual' campaign during the construction period to make sure that people are attracted to the area.