KDV Sport training champions
Posted on 4 July 2017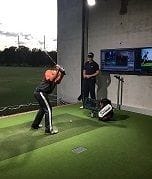 KDV Sport, which was officially opened on October 27, 2016, has already become a significant landmark on the Carrara sporting precinct landscape.
KDV Sport was built with a vision to develop the next top 10 world ranked golf and tennis player. It is a grand vision but the facility features ensure this dream has every opportunity to become reality within the next 10 years.
From a golf perspective, there are three PGA professional golf coaches on staff including the 2016 PGA Training Professional of the Year. Working with all ages from 5 upwards, the golf coaches each have their own private studios overlooking the driving range and hinterland. Add to this, there is a 40 bay, split level undercover driving range, 12-hole golf course and a recently built short game area for chipping and putting.
From a tennis perspective, KDV Sport has 20 tennis courts including 12 clay and 8 hard courts - supported by programs developed for ages 3 9 (Hot Shots), 10 14 (junior performance) and our tennis academy (15+). Our 5 tennis coaches are supported by our new Head Coach of Performance who has coached 49 national champions over his coaching journey.
An intrinsic part of the centre is its strength and conditioning program overseen by a former Olympic swimmer in the KDV Sport Fitness Centre. With a purpose-built gym, ice bath, spa, sauna and outdoor heated swimming pool, the Fitness Centre has nearly 300 members.
Supplementary to these facilities is an 18-hole mini golf course, function rooms, fully licensed restaurant, outdoor function hub ideal for kids parties, playground and BBQ.