A message from Paul Taylor - Councillor for Division 10 October 2016
Posted on 5 October 2016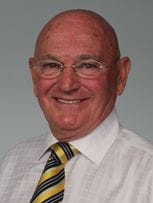 Another exciting addition to the City's botanic gardens is the new Rotary Education Pavilion. The pavilion is a welcome improvement, providing a covered area for teaching and outdoor demonstrations as well as offering space for small scale exhibitions or an outdoor performance or event.
Colourful interpretive display boards have been installed as a teaching aid, inspiring visitors to this wonderful City asset about the amazing world of plants.
New concrete footpath Moya Edgerton Park Broadbeach
A well traversed pedestrian track across Moya Edgerton Park will soon receive a much-needed upgrade.
Division 10 Local Area Works funding has been provided to install two pedestrian access ramps and construct a 30m long and 2m wide concrete footpath from the western side of the Broadbeach South Light Rail Station to connect with the existing footpath that runs westwards across the park towards Hooker Boulevard.
Following lengthy discussions with various stakeholders including GoldLinq and Parks and Recreational Services, the footpath will be constructed as soon as practicable.
Lake Hugh Muntz annual clean-up day
The Lake Hugh Muntz Care Group will be holding its annual clean-up day on Sunday 9 October. If you'd like to take part, please meet in Morialta Park off Wild Duck Drive, Mermaid Waters at 9am. These activities will be followed by a free sausage sizzle at around 12pm.
This annual 'spring clean' event has become extremely popular with residents who provide an amazing amount of assistance and support to the City by augmenting our regular maintenance in and around the lake.
The ongoing support of our local residents ensures Lake Hugh Muntz can continue to support passive recreational activities which are becoming so increasingly popular.

Children's Playgrounds Boronia Park and Platell Park Florida Gardens (Broadbeach Waters)
Parks and Recreational Services has brought to my attention a resident is allowing their dog to illegally enter, possibly unrestrained, the children's playground areas in Boronia Park and Platell Park. While this is an issue, what is more concerning is the dog's owner is letting the dog damage park infrastructure.
It appears that on several occasions, the dog has bitten/chewed the rubber seat pommels in both parks, so much so, that the fixtures have had to be replaced numerous times at significant cost to Ratepayers. As this is continuing to occur, it has been suggested consideration be given to removing this play equipment.
Rather than take this drastic step in the first instance, security surveillance and increased patrols will be undertaken in the area. This matter has also been brought to the attention of the Queensland Police Service. I am seeking your assistance and if you see anything untoward please let my office know (5581 6171).
Neighbourhood Watch needs you
If you're thinking about joining a Neighbourhood Watch group or would like to get involved in setting up a group in your area, please visit nhwq.org.
With over 50 active groups City-wide and three well established groups already operating in Division 10, perhaps now may be a good time to give this some thought with your neighbours.
Alterations to carpark crossover Monaco Street and Rio Vista Boulevard Broadbeach Waters
Following receipt of resident safety concerns, the vehicle crossover from the car park at the corner of Monaco Street and Rio Vista Boulevard will be narrowed to ensure motorists enter Rio Vista Boulevard at a safer distance from the intersection. Divisional funding will be provided to undertake these works.