A message from Mayor Tom Tate, March 2017
Posted on 3 March 2017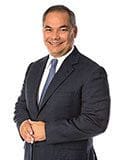 A prepared community is a resilient community.
As Mayor, I'm committed to ensuring our city is as prepared as possible for severe storms and other natural disasters. As a business community, we have a role to play in advocating emergency preparation to keep ourselves, our families, homes and businesses safe.
Knowing you have a disaster readiness plan in place for your home and your business will help minimise damage and facilitate faster recovery.
This year, some small businesses are partnering with City of Gold Coast to support disaster readiness. These stores sell many of the items needed for an emergency kit.
Essential items to include in your kit are:
non-perishable food and water
personal hygiene items
medications
torch with extra batteries
communications such as radio and batteries
a phone charger
pre-paid phone cards
important documents
first aid kit.
Don't wait until it's too late - now is the time to sit down and ensure your home and business are prepared.
Prepare your written emergency and evacuation plans, pack your emergency kit and make a list of emergency contacts.
For information on disaster readiness and a list of retail partners visit
cityofgoldcoast.com.au/getready