SURFERS PARADISE MARKETS COMPROMISE BEST OUTCOME
Posted on 3 June 2016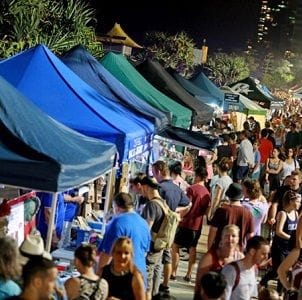 THERE has been some upset following the announcement the Surfers Paradise Markets will have its hours extended, however the Gold Coast Central Chamber of Commerce (GCCCC) says the compromise is the best outcome for the area.
The markets were originally held between 5-10pm on Wednesdays, Fridays and Sundays, but were switched to 3-8pm as part of a 12-month trial by Surfers Paradise Alliance (SPA).
From tonight opening hours will be 4-9pm after a SPA survey found at least 35 per cent of businesses had reduced trade during the trial.
While some business owners in the heart of the glitter strip have expressed outrage with the decision, GCCCC President Peter Yared says it is a small minority of businesses that are against the extended trading hours and the Chamber has thrown its support behind the decision to change operating times.
"The Surfers Paradise Markets actually attract tourists and locals alike to the Surfers Paradise precinct which in turn injects value and revenue into the broader destination," says Yared.
"In addition, market stall operators pay to set up shop with that money going back to SPA to arrange and host events in the Surfers Paradise area. Again, those events add value and revenue to the Surfers Paradise precinct as a whole.
"A lot of the businesses in the Surfers Paradise precinct that I have talked to are actually in support of the extended trading hours for the market goers and are benefiting from their presence.
"In addition, the markets add real colour to the Surfers Paradise foreshore and the broader community with its vibrant ambience and its diverse cultural offering."