Plan needed to cope with traffic stress
Posted on 23 August 2016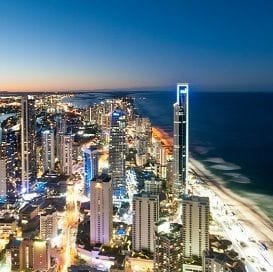 The Gold Coast may be undergoing a new development boom, but according to the Gold Coast Central Chamber of Commerce (GCCCC) the inner city is at risk of grinding to a halt due to rising traffic stress points across the city.

GCCCC President Peter Yared says Chevron Island arguably creates the biggest traffic bottleneck on the Coast at peak times and this is now spilling over to Isle of Capri's eastern entry.

"I'm not telling anyone anything new here, but the problem has become more acute in recent years," says Mr Yared.

"This is 1980s infrastructure that doesn't have a place in our modern city.

"The Gold Coast is undergoing a new wave of high rise development at the moment, and stress points like these are having a big impact on the morning afternoon commute through the inner city.

"It's also impacting people on Chevron Island who are finding it is taking longer to get off the island.

"If we want the Gold Coast to develop in a sustainable way, these are immediate matters of concern for both the city's business community and its residents.

"We need a traffic plan that can tackle these issues, and many others, that are holding the Gold Coast economy back.

"We also need to ensure all new development and traffic plans consider the need for innovative and integrated public transport. This should be prioritised in any traffic management plan as well as utilising multi-mode transport into one area. By this, bus stops should be designed to safely encompass taxi ranks, top up machines should assist passengers using go cards and there needs to be future thought for electric vehicle charging stations."

Mr Yared said the decision by Division 7 Councillor Gary Baildon this week to vote against the development of a new high rise on Chevron Island was a reasonable response to the growing traffic problems on Chevron Island.

"Chevron Island clearly needs to replace the existing bridges at both the eastern and western entry points, or at the very least to upgrade them.

"This is an important infrastructure project that the Gold Coast has needed for some time, and one that should be immediately followed by a widening of the bridge on Isle of Capri's eastern entry."

Mr Yared said the City of Gold Coast needs to assess a broad range of traffic bottlenecks across the city and to develop a master plan to address them.

"We need to think beyond the Commonwealth Games and beyond the next election cycle if the Gold Coast is to prosper as a world-class city."