Landmark project to give the Gold Coast momentum
Posted on 7 September 2016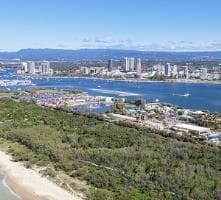 An investment of $3 billion by ASF Consortium to create a landmark casino resort is a major step in the continued evolution of the Gold Coast as a world-class city, says the Gold Coast Central Chamber of Commerce.

The Chamber has welcomed the proposal by ASF which will also deliver significant benefits to one of the city's most popular theme parks, Sea World.

"The Gold Coast has been hungry for a major development of this scale for some time," says Chamber President Peter Yared.

"It ticks the boxes from both an infrastructure perspective and as a development that gives the Gold Coast leverage to position itself as a major attraction in the global tourism market.

"The ASF proposal is the type of development that will keep the Gold Coast well and truly in the game as a major tourism player both domestically and internationally.

"The scale of this project and the lasting benefits it will bring to the local economy are immense. It's a game changer that builds on our strengths as a sophisticated city for the business and leisure market.

"From the Chamber's perspective, this project will deliver enormous benefit to our members through ongoing employment opportunities and a significant boost to tourism expenditure."

The ASF development, to be located on a vacant Crown land just south of Sea World, will include three towers to accommodate a mixed-used development and a major new casino for the region.

The plan also includes improved vehicle access to The Spit through a new bridge spanning the Broadwater.

"This will be one of the biggest developments ever undertaken in Queensland, and it keeps the Gold Coast abreast of major tourism infrastructure improvements already in train for Brisbane with the Queen's Wharf development," says Mr Yared.

"The confidence that this development would bring to both the Gold Coast business community and the broader national investment community cannot be understated.

"This is a defining development for the city and, provided it meets the rigours of the approvals process, the Chamber sees it as a major step towards our city of the future."