Christmas conditions lack the festive confidence
Posted on 8 November 2021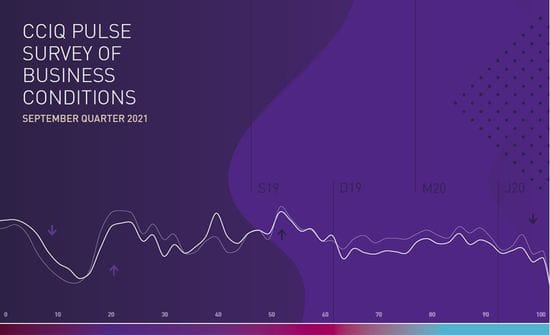 The traditional Christmas business boom will missing some trimmings this year with Queensland businesses lacking confidence the silly season will deliver the usual spend-a-thon benefits to the state's economy.
Results from the Chamber of Commerce and Industry Queensland's (CCIQ) September quarter Pulse Survey show Queensland businesses expect conditions won't change in the December quarter off the back of a similarly underwhelming September quarter.
Business conditions for the three months to September are marginally above this time last year, when the state's economy had only just started its COVID recovery.
From Cape York to Coolangatta, Cloncurry to Cunnamulla, CCIQ's quarterly Pulse Survey is the state's most established and comprehensive survey of business confidence.
CCIQ Policy and Advocacy General Manager Amanda Rohan said the outlook results were disappointing for business and consumer confidence given the Christmas period traditionally meant a business boom.
Close to 40% of businesses surveyed indicated sales revenue had fallen in the September quarter while expectations of sales revenue for the December quarter indicate a further weakening, with 41% of businesses believing their total sales will remain unchanged.
(Read the full report here)
"Christmas normally brings the gift of an increase in trade for many small businesses as consumers get in the spending spirit but the festive buzz is lacking for the second year in a row," Ms Rohan said.
"Queensland businesses have endured close to two years of COVID economic conditions and these results show many are not expecting the December quarter to significantly improve.
"We know the State Government's road map shows borders and the economy will re-open to fully vaccinated travellers just days before Christmas but we've been saying since April businesses are desperate for clearer details around what new COVID trading conditions mean for them.
"Details are still needed on four things: guidelines relating to any restrictions on business in relation to the vaccination status of staff and patrons, if the Queensland Government contact tracing app will integrate to include vaccination status, what will happen if a business is exposed to COVID and clear advice on Rapid Antigen Testing for businesses.
"Without those essential details now just six weeks before borders open, the reality is the impact is starting to show with a poor business confidence outlook for the December quarter."
Ms Rohan said September quarter general business conditions were only 6.1 points above the same time last year.
"For the most part businesses have only just been getting by for a year which we know a lack of confidence caused during snap lockdowns, restrictions and border closures was responsible for," Ms Rohan said.
"Now they're desperate to be able to make the most of the re-opening in time for Christmas to try and re-coup some of those losses.
"For businesses to be able to accelerate their long term recovery and cash in on Christmas trading, they need to know what they're up against and how they will be incentivised and protected to run a businesses in new COVID conditions.
"We're still waiting for that detail which is why the December quarter outlook is weak."