A message from Paul Taylor - Councillor for Division 10 September
Posted on 5 September 2016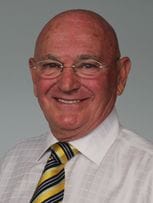 To improve traffic and parking around the Broadbeach State School and adjacent residential area, approximately 30 angled 2-P parking bays will be constructed along the Margaret Street frontage of the school.
The proposed work will involve a number of minor alterations to the kerb and channel and road reserve; include line marking, signage and the replacement of some trees to accommodate the additional parking bays.
Works will commence as soon as practicable with funding provided from the Division 10 Local Area Works budget. These extra on street parking bays will be a welcome boost to the local community.

Cultural Precinct now on its way
You may have noticed in your travels the former Council administration building that once stood adjacent to the Arts Centre Gold Coast off Bundall Road, is nowhere to be seen. Demolition commenced in late June of the beehive, as it was affectionately known, to make way for an amphitheatre and art space in conjunction with stage 1 of the Gold Coast Cultural Precinct. Construction of the amphitheatre will commence in October and once completed will cater for 850 patrons seated, to around 5000 guests standing. Following demolition, 100 per cent of the light, medium and heavy gauge steel and about 70 per cent of the aluminium and copper building materials were recycled.
Park(ing) Day 2016
This year, the City extended an invitation to creative groups, artists, planners, local university students and the local community to engage in the annual Park(ing) Day on Friday 16 September. This global initiative transforms parking spaces into vibrant people places and encourages the community to rethink the use of high value on-street parking spaces as engaging public places. The aim of the initiative is to inspire creativity and create social opportunities for local communities while challenging the perception of how public space can be better utilised in making places. Make your way into Broadbeach to see the creative results of this increasingly popular event.
New facilities Gold Coast Regional Botanic Gardens
The long-awaited new toilet facility is now open and will be a very welcome addition to the thousands of people who visit the gardens annually. If you haven't visited the gardens for a while, there are a growing number of new and improved resources to enhance your experience while enjoying the gardens. The children's playground, designed to integrate with its natural surroundings, encourages children to be more exploratory, imaginative and adventurous in their play; has reopened after a major refurbishment project. Additional play equipment for the little ones will also be incorporated in this space.

Gladys Moncrieff Park Bundall (Sorrento) Free Neighbourhood Engagement Event and Deployment of Mobile CCTV Cameras
A neighbourhood engagement event will be held in Gladys Moncrieff Park Boomerang Crescent Bundall (Sorrento) on Saturday 10 September between 10am and 12pm. If it's raining that day, the event will be held on the following Saturday 17 September between the same hours. The event will provide an ideal opportunity for local residents to get to know their neighbours over a sausage or two and perhaps discuss the possibility of establishing a local neighbourhood watch group with Holly James from the Queensland Police Service all while the youngsters enjoy the children's activities. Feedback to the City's Community Safety Team is also welcome following the installation of two relocatable CCTV camera units in the park in mid-June. Two standalone, solar powered, 4G connectivity CCTV camera units have been deployed at each end of the park and are able to be relocated to other locations within Division 10 when required. If the units are to remain in Gladys Moncrieff Park for an extended period, a standard pole footing can be installed to improve the overall appearance. This will be reassessed once the actual locations and field of view have been adequately determined.